When I started writing on grasspea, I came across many special names and striking phrases of this amazing legume crop, which not only caught my attention but forced me to write the acronym of GRASSPEA and LATHYRUS. These acronyms not only give the collective impression of this miraculous plant but also capture my attention to its value as a functional food. Grasspea is a common name and here, I provide general description of its acronym based on its general features suggested by farmers and consumers. In the same way, Lathyrus is its botanical name which will explain scientific assets of grasspea reported by scientists.
'GRASS of Grasspea' is the first in the series on Incredible Grasspea which will be followed by 'PEA of Grasspea', 'LATHYRUS: Scientific acronym of Grasspea', 'Fancy findings of Grasspea', My relationship with Grasspea, 'Scientists' views on Grasspea', 'Consumers on Grasspea' and  at last 'ICARDA and Grasspea'.
This series has been written by Dr Priyanka Gupta please follow them on Twitter @VidhiPriyanka
G: Gorgeous Gems to Glorious Grasspea
Few days back when I posted a microblog on twitter stating that grasspea sparkles like hidden gemstones then someone laughed and said- Is grasspea so much valuable? Would you like to compare it as precious gemstones? For this, I would like to explain that not only under LED lights (speed breeding facility) or in field, grasspea is gorgeous and glorious like gemstones as it possesses priceless traits which makes this plant invaluable.
Grasspea is a cool season legume crop and in spring season, its gorgeous flowers spread fresh breeze. It's beautiful and colorful (some of the prominent: blue, reddish-purple, red, pink orange, yellow, white and papilionaceous) flowers not only make this plant exotic rather it shines like precious gemstones and sparkles like blue-pink diamonds under the speed breeding facility @ICARDA. Thus, some of grasspea species are used for ornamental purpose and are included in the gardeners' wish list. This amazing legume also known as 'Indian pea' and during the colorful Indian festival, its bright flower colors bring 'Holi-vibes' .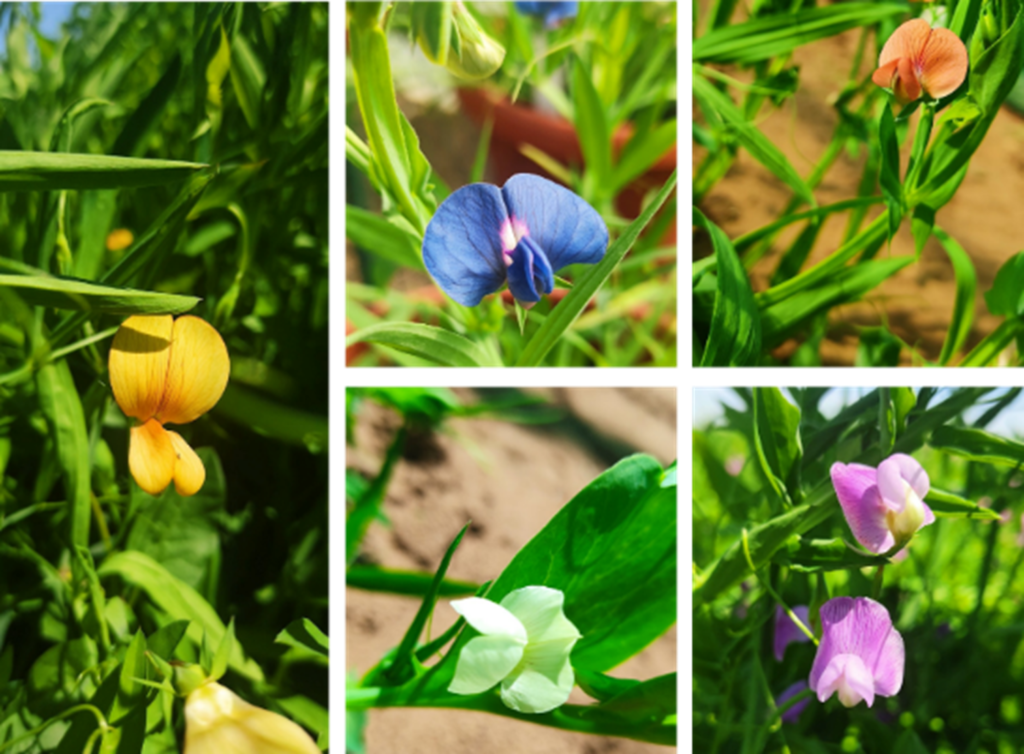 R: Renaissance grasspea
If we think about grasspea as a Renaissance crop than what would be ideal situation to define? Imagine yourself in a desert -lost and thirsty for days on end, and a noble soul comes your way and offers you half of a glass of water. What would your reaction at that moment? I guess without a second thought you would declare that it was your rebirth. Fairly so grasspea is that noble plant for the poor bellies who is living in the water stressed conditions where all other crops fail to grow and offers life to them. Yes, Grasspea is that revival crop that stands tall under extreme fragile agroecosystem. Grasspea also acts like a biological nitrogen factory which help revive the soils. Now modern breeders bring it on front and harnessing useful traits to make grasspea as a survival crop.
A: Abandoned Grasspea for its Abundance under climate crisis
Is grasspea a boon or bane? Ethiopian DCA actalliance reported a story of an Ethiopian man (name: Sisay Teka, 53) who wanted to commit suicide when he first discovered his paralysis due to regular consumption of grasspea. Many Famine victims in Ethiopia, India, and Pakistan faced permanent paralysis of lower limbs from its overconsumption as this was the only crop that survived the extreme drought and gave abundant harvest. As a consequence, in many parts of the world, grasspea trade has been banned without much research on its value as functional food to avoid the stigma associated with crippling disorder. In their words-It would not be wrong if grasspea described as 'abandoned legume crop'. However, with recent research findings, there are many advantages which need to be considered.
S: Sinless Savior to Survivor Grasspea
Grasspea has two faces, it is considered as destroyer as described above, now I would like to draw the attention to the facts how this fabulous crop turns from a perception of a destroyer to a Savior. At present, the world is suffering from the COVID-19 pandemic which has disrupted the global food supply chain and regional disparities. This has brought the issues of food and nutritional security in a climate crisis situation. Prior to pandemic people were already food insecure and now border restrictions and lockdown slowing down the food supply chain. As a result, millions of people are facing adversities or worse.
In the past, grasspea had served as 'Sinless savior' because this special plant 'drawn to hope' and repute as a useful famine food for massive population under a severe climatic conditions. Not only that its second 'S' acts as savior to survivor because it can endure extreme environments and can stand out in all the odds from drought to flooding. This plant is highly tolerant to abiotic stresses such as drought, heat, salinity, alkalinity, flood, and waterlogged conditions. It is also resistance to biotic stresses such as insect-pest and diseases. Due to its survival nature, easy cultivation, tasty culinary, high protein, and many health benefits, grasspea has regarded as popular and insurance crop in many parts of the world as food and to feed livestock.
S: Sustainable Grasspea
The present generation has expanded queries for its food intake. Not only they read calories and fat grams but also they are curious to know the food source and particularly how that affects the health of people and the planet. In the web of life, sustainability is a priority for them when buying food at grocery stores or restaurants. Environmental activists spread the awareness and influence consumers that how food manufacturers should be using earth friendly practices. According to Wendell Berry, a sustainable crop in one which depletes neither the people nor the land.
Does grasspea contribute to sustainability? Can we say, grasspea is good for people and good for planet? Many studies have suggested that grasspea is an attractive choice for sustainable agri-food system, owing to its inherent properties and numerous advantages, such as its very low input requirement, biological nitrogen fixing ability, beneficial to system productivity, suitability for rice fallow and zero tillage, and nutritive food for human and palatable feed and fodder for animals. Addressing the COVID crisis, there is an urgent need of climate smart crop like grasspea which contributes to sustainable agriculture and also shows immediate impacts and reshape our food system. Grasspea supports heathy diets, makes food production and consumption aligned to sustainable development. In this COVID era, it is adequate to say grasspea is a 'Crop of Future' and with concerted efforts its inclusion in cropping systems can bring a shift to more sustainable and diversified food systems.
I think I have done enough justice to explain the 'GRASS of Grasspea'. In the second blog I will explain 'PEA of Grasspea'.
Written by Dr Priyanka Gupta from ICARDA. Follow Priyanka on Twitter @VidhiPriyanka